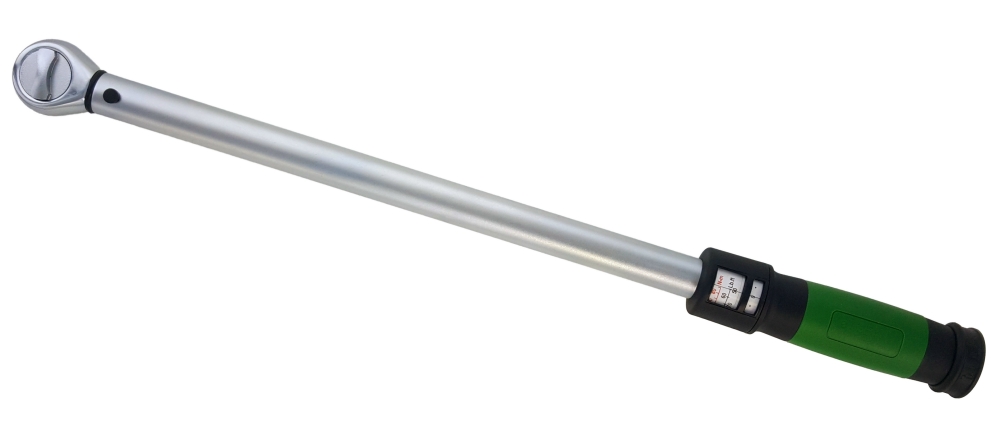 C3250
1/2″ Drive Torque Wrench
50-250 Lb.ft, 70-340 N.m

Features:
Wrench clicks and/or releases when preset torque value is reached
Meets the requirements of America National Standard ASME B107.300-2010
Accurate to +/- 3% in clockwise direction compared to most competitors +/- 4%
Operates and measures torque in both clockwise and counterclockwise direction
45 Tooth Ratchet Head for easier clockwise and counter-clockwise operation in tight spaces
Hardened Alloy Steel Housing for strength and durability, resulting in a slimmer, lighter design
Tempered Chrome-Alloy Springs assure long-term accurate performance
Each wrench is tested and certified at the factory prior to shipment. Individual certification is included with each wrench.
Ergonomic, large diameter soft grip handle is more comfortable to use, and requires up to 50% less turning force than most competitive products when adjusting the torque.
Dual, English and Metric scales are easier to read than on most competitive wrenches, reducing possible setting errors.
Locking knob secures selected torque setting from accidental changes. Torque setting is done by pulling large locking knob out and turning the handle.
Protective plastic carrying case is included.
Factory Repair and Calibration Center is located in Roswell GA for any needed service and assistance.
Specifications:
Drive: 1/2″.
Range: ft.-lb.: 50-250 ft.-lb.
Range: N.m: 70-340 N.m
Accuracy: ± 3 percent (Clockwise)
Length: 20.5″
Package Includes:
1/2" Drive Torque Wrench
Protective Carrying Case
Calibration Certificate
Instruction Booklet
——————————————————–
Recent Reviews:

Best Torque Wrench for the $$$$
★★★★★

"I have literally tried 5 different brands of 1/2" Torque Wrenches off Amazon and everyone of them had issues. I'm happy to say with this one my search is finally over. Very nice design and works flawlessly. It arrived yesterday and put it to work right away. Used it 6 different times yesterday on different foot lbs and didn't fail me like the rest. The length is just right and very stout, love the locking handle design and doesn't feel cheap like all the others I have tried. The indicator for the Ft Lbs is great, very easy to read, and dead on. Best torque wrench for the money, especially since it comes with a lifetime warranty."

- Dustin
BUY THIS WRENCH NOW AND THANK ME LATER !!!
★★★★★

"Fantastic Torque wrench.....go ahead and buy this now !!! Great quality and easy to read torque settings and very easy to set your torque settings too. Comes in a case and even comes with a certificate of its factory calibration authentication along with an instruction booklet as well. And the handle is real comfortable and requires 50% less force than other torque wrenches. Don't waste your time looking at others such as Tekton because this wrench is fantastic !!! You can thank me later."

- David hicks
I love the lock/unlock feature
★★★★★

"I love the lock/unlock feature. The only other torque wrench I've owned had an issue with it unlocking while I was torquing something and with this one it's a lot less likely. I also really enjoy how easy it is to read the settings and the overall construction seems solid. Highly recommend this to anyone who is looking for a good click style torque wrench."

- Joshua Lorenz
Solid and Well Made!
★★★★★

"I was looking for a newer torq wrench on Amazon to replace a torq wrench I purchased approximately 34 years ago. I was greatly surprised by just how well this tool is made, the hand grip is solid, easy to hold on when using. I expect this tool to last as long as my old wrench did."

- R. Marshall
A giant leap forward for torque wrench design
★★★★★

"The wrench I received has calibration tolerance way inside of the 3 clockwise and 6 counterclockwise % that is stated. Mine is within 1% clockwise and 1.5 % counterclockwise. Display and torque adjustment represents a huge leap forward from traditional design. Directions are short and sweet and have everything a new user needs to know clearly written in English. I was worried the plastic handle would feel chintzy, but it feels extremely solid and is comfortable to handle. The torque selection lock design also works easily and feels very sturdy. I am very satisfied with this product."

- E. Wilson
Perfect tool for the job!!
★★★★★

"Perfect! Just what I needed, they are putting my motor back together, in my Freightliner!"

- N. Mac